Share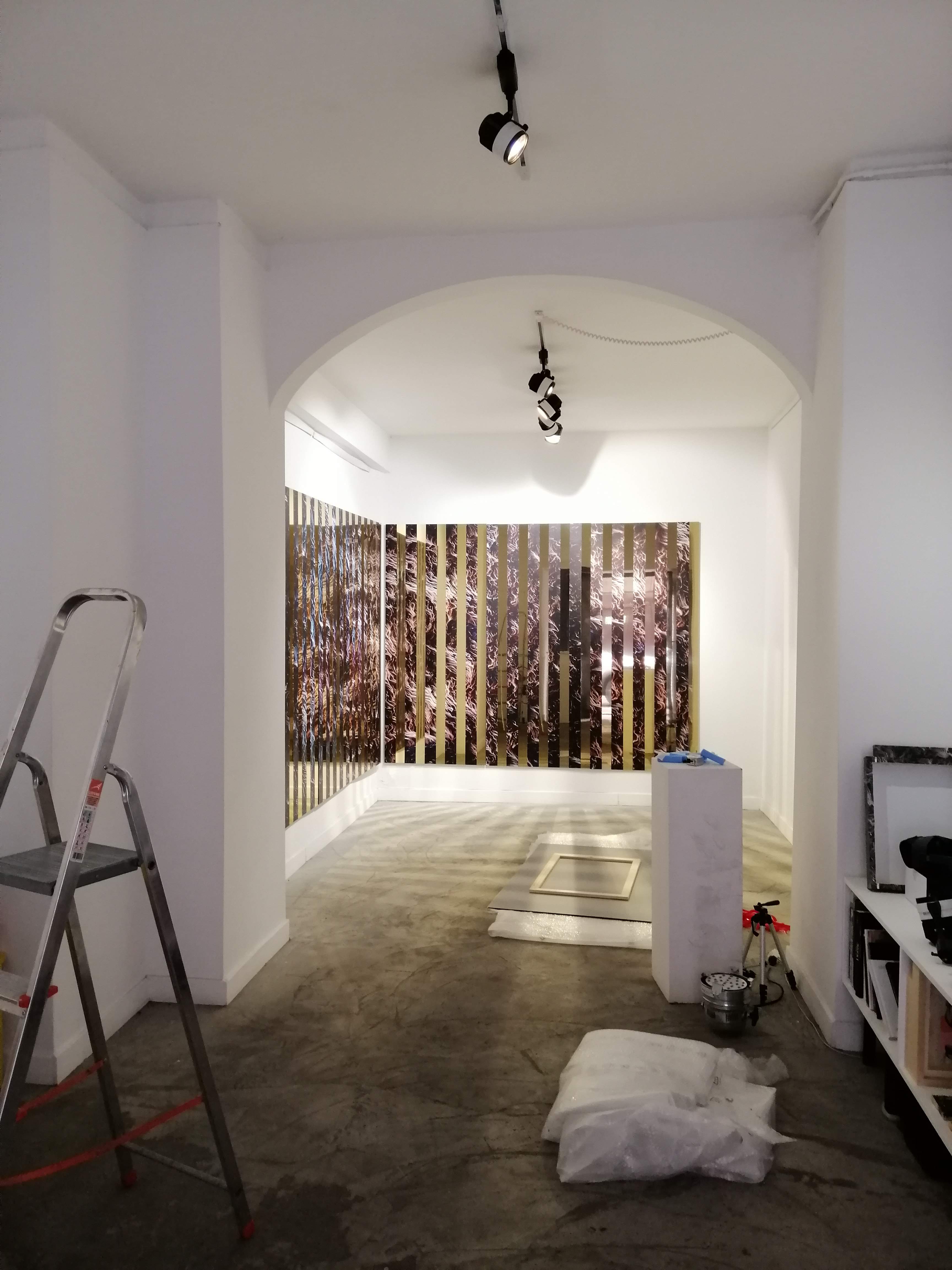 I like this behind-the-scene photo. Perhaps more than the polished ones which will follow. Don't know whether is cause it admits that little dirt and mess which brings me back memories of those hey days, when I used to erode my soul spending nights in the darkest meanders of London town…
Anyway, my dear told me I designed a jewel. It feels like I want to wear it, being lightened and blinded by those goldish play of light. This artwork is the brightest penetrant joy and the darkest Baroque turmoil. They are synced in a performative visual. As a matter of fact I aimed to create a Hall of Mirrors. Yes, like one of those designed by the midget Cuvilliés. The mirror; device of vanity in our society, opposed to a device of illusion and delusion. Too often a missed opportunity to create a fantasy world. I aim to creation rather then mere reflection. We all use mirrors to check how beautiful we wanna be. Perhaps to shoot one of those front selfies covering part of our bad noses or fat cheeks.
But no. Mirrors are more interesting devices than just that. Trust me. A mirror could lead you to where reality neglected us.
This installation is made of paint and aluminium mainly. I originally composed it of 6 autonomous units, each divided in to 10 strips. A total of 30 bits of this and 30 bits of that. It is an artwork that is not constrained in a frame. It is free to room and expand itself towards the infinite.
I originally wanted to sell each unit separately to make it more marketable. But no. I don't want these to be sapareted any longer. I am fed up with split-ups. The 60 strips together form an entity, one of those entities you can't break no matter how hard you try. They need to exist as one piece and being myself the creator of it, I am here to protect it. If I were you I would come and wear it. Mr Finger would scream, Can you feel it?
Today I am naming this 'My first Hall of Mirrors', which implies it won't be the last.
MM