MM021.LAMBORGHINI // [詳細はここをクリックしてください]
Series // #WhenLambo
Title // Taurus MCMXVI, Le Salon de Madame Miura.
Location // Milan, Italy.
Curated by: Museo Ferruccio Lamborghini.
Italy, Summer 2021.
—
"My father wanted something that could compete aesthetically with the Ferrari car Logo… and this wasn't difficult to achieve for him: he chose a Bull because it is a symbol of strength and power. He was born under the sign of Taurus. This is where the idea came from"
Tonino Lamborghini
Strength and power. This is what Ferruccio wanted to communicate with his cars, and which animal better than the bull can best express this concept? In fact, the bull is the protagonist of the first NFT created by the Sicilian designer and artist Matteo Mauro, who wanted to celebrate the symbol of the iconic Lamborghini brand by creating a digital artwork inspired by seventeenth and eighteenth century antique prints.
This majestic animal is re-proposed in a classic style as if it were an object prefigured 500 years ago, surrounded by delicate and fascinating ornaments with some modern appeal, alongside the image of Ferruccio.
"I want a bull that looks mean!"
Ferruccio Lamborghini
These are the words that Ferruccio uttered to the Italian designers who would take care of the graphics for his Logo. In fact he didn't want them to paint simply the depiction of a bull… It had to be majestic, and express virility and energy to make the world understand what kind of cars would bear Ferruccio's name. His cars had to reflect the kind of man he was. Matteo Mauro's artwork symbolizes the connection between the Bull and Ferruccio and the great influence that this iconic brand has had in the world of sports cars.
Shown for the first time at the Geneva Motor Show in '71, it was immediately a huge success. The official maximum speed was over 290 km/h. Starting from a standstill, it covered one kilometer (0.62 miles) in just under 24 seconds: record performance at the time. Matteo Mauro's artwork honors the great technological and design impact that has been given by this formidable Supercar which, even today, 50 years after its birth, fascinates sports car enthusiasts from all over the world. He celebrated this masterpiece of a sportscar by placing it inside an eighteenth century hall. As a symbol of innovation and elegance, the car stands at the center of this hall decorated with representative elements of the Rococo style in an environment that recalls a natural landscape in a modern key.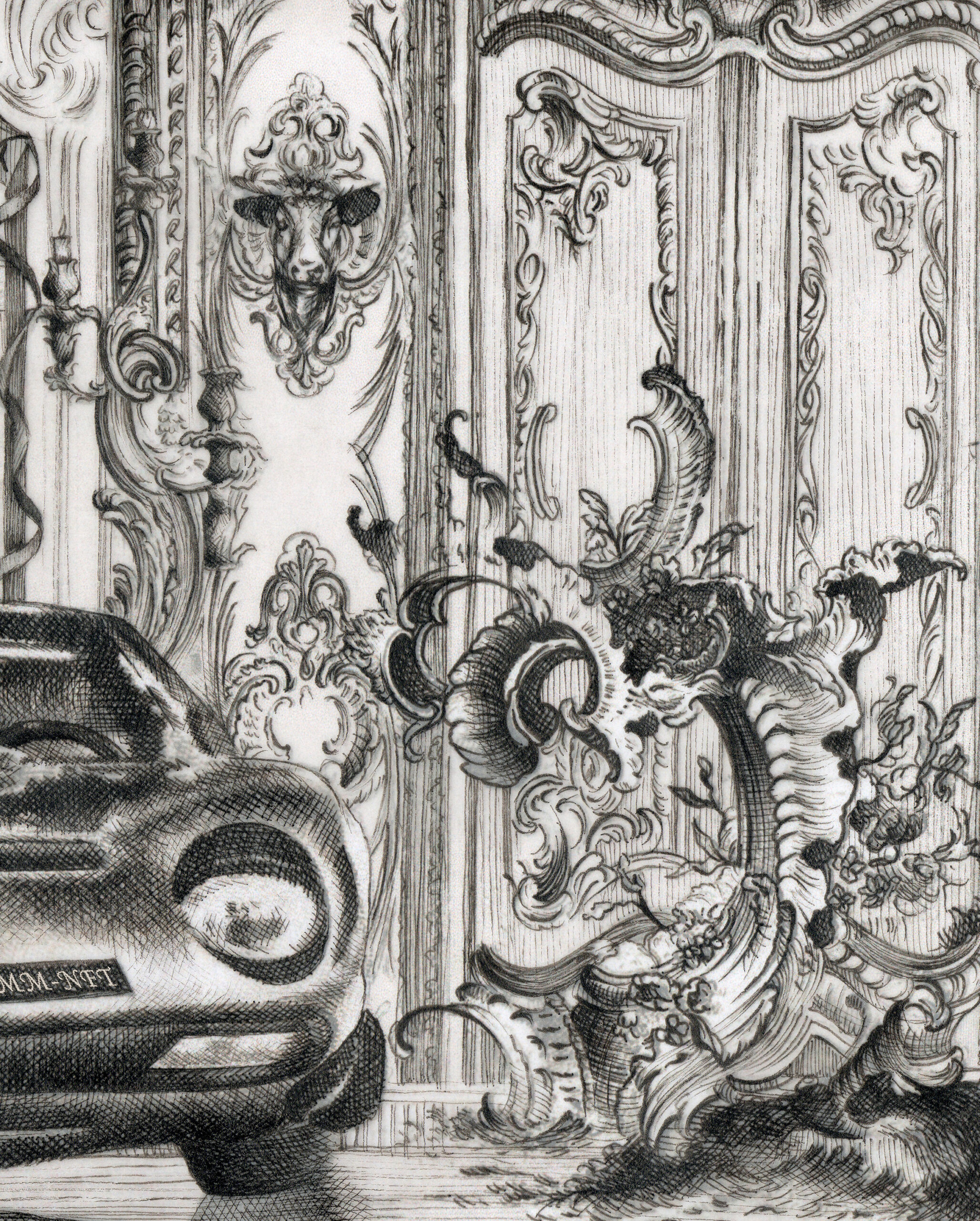 "The Miura is a sports car for the young at heart who want dart crazy and love to appear"
Ferruccio Lamborghini
Matteo's art observes and explores the surrounding world, researching old and new methods of creative expression and uses different digital techniques of representation. In creating the works he has accumulated neat lines with a particular algorithm to create a fascinating light / shadow effect, then he has rejuvenated these images through digital making them extremely contemporary. To give life to his artworks, he drew the shapes via a sequence of neat strokes on paper and then digitized them with a particular algorithm creating a fascinating light / shadow effect. Matteo's two artworks represent a one-of-a-kind celebration of the symbol of the Lamborghini brand and its most famous car: Miura.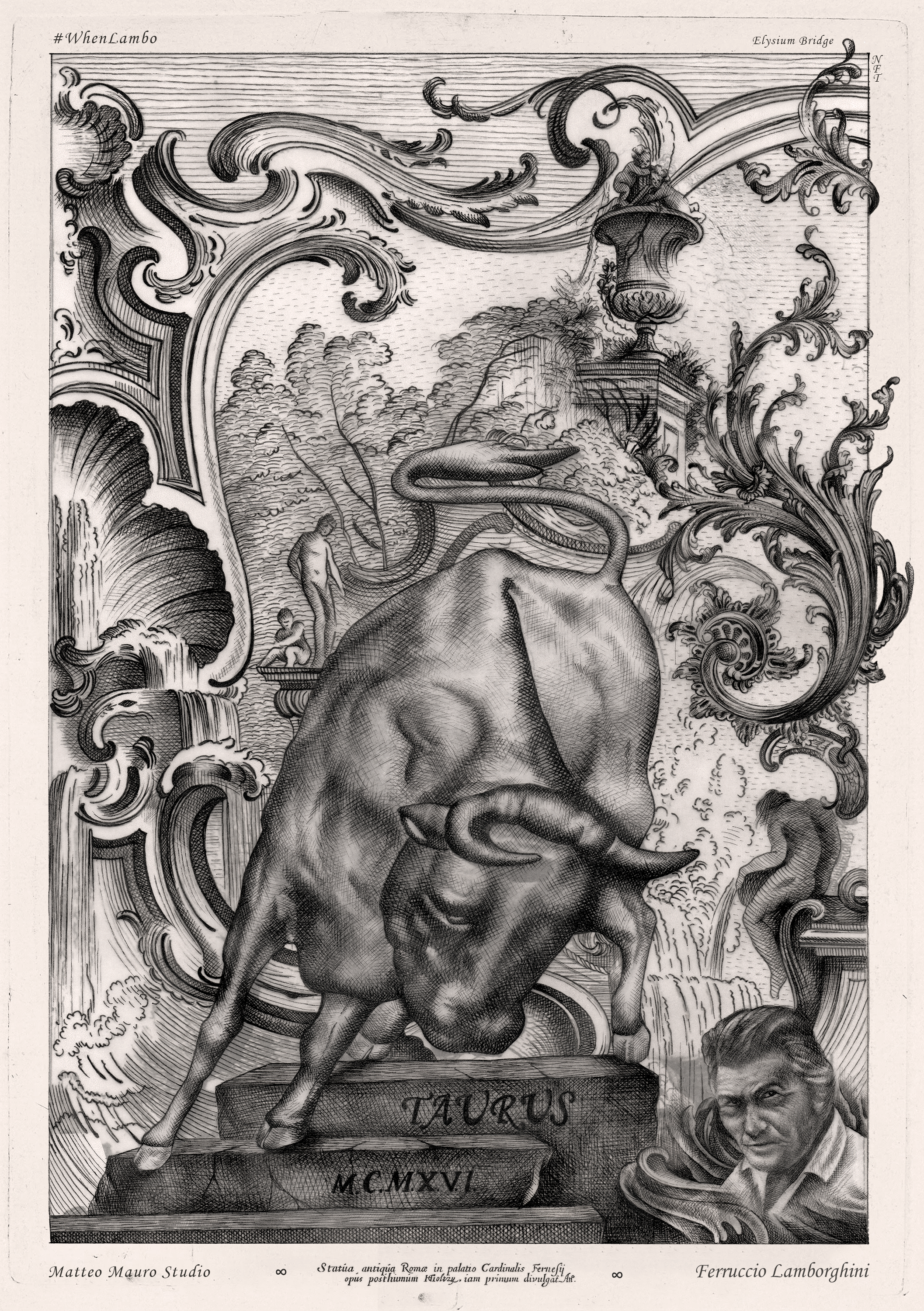 —
#whenlambo #nft #museoferrucciolamborghini
Share