Share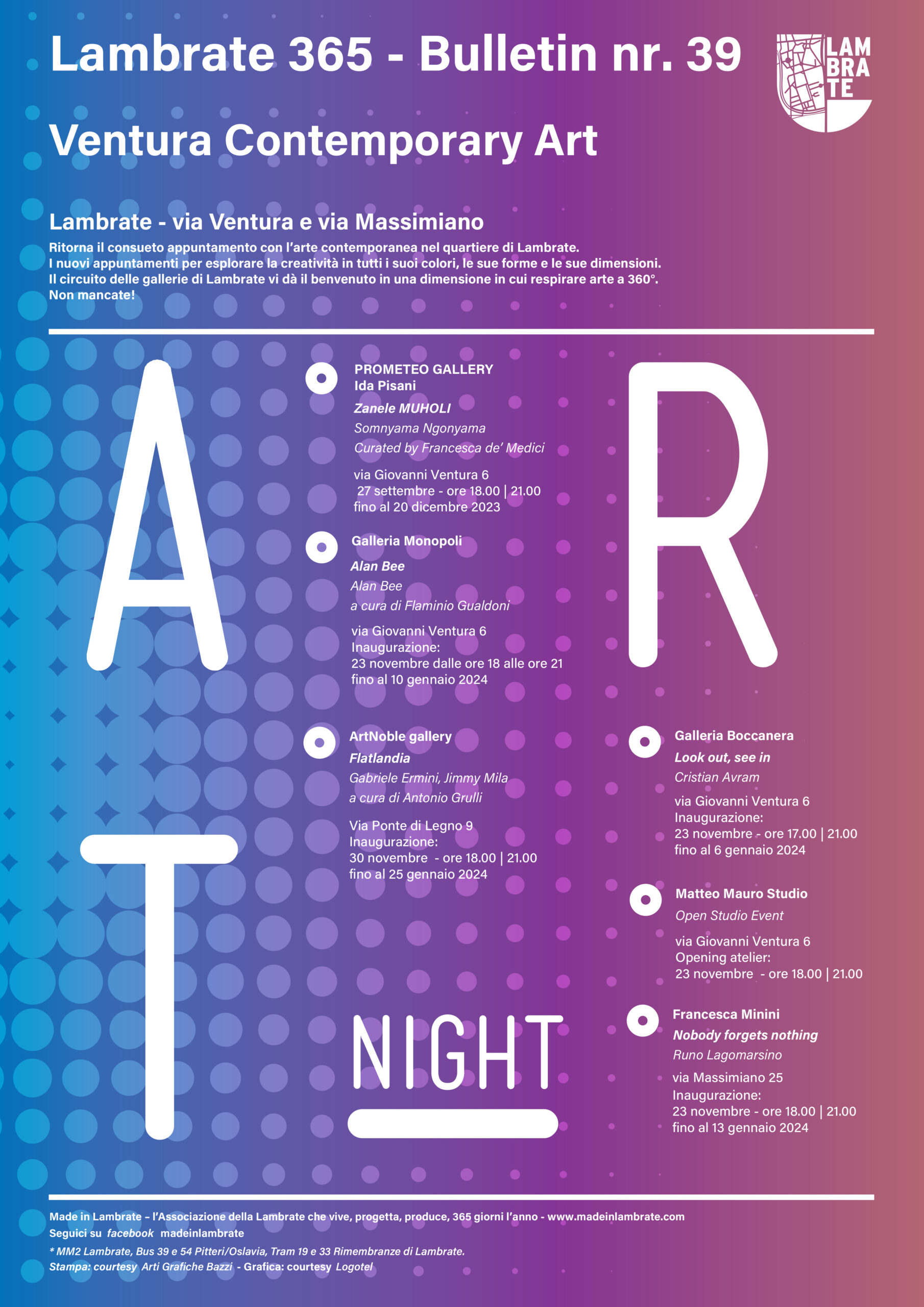 The design district of Lambrate is set to come alive on November 23, 2023, as Matteo Mauro welcomes art enthusiasts to an evening of art. Hosted in the Ventura 6 gallery courtyard, explore the vibrant world of contemporary art within the Lambrate scene. From 6-9 pm, the courtyard will transform into a haven for art lovers, showcasing the talent of a number of established artists.
Matteo Mauro, opens his studio to the public as an exclusive chance to witness the artistic process first hand, and engage with the mind behind the masterpieces. This intimate setting allows visitors to connect with the artist and gain insight into the inspiration and techniques that shape his work.
The excitement revolving  around Lambrate on this special evening extends beyond Matteo Mauro's studio. Other galleries in the courtyard will be open to the public, Prometeo Gallery, Galleria Monopoli, ArtNoble Gallery, Galleria Boccanera, and Francesca Minini, creating a collaborative celebration of artistry. Each gallery promises a unique experience, offering a diverse range of styles and mediums that reflect the dynamic spirit of the contemporary art scene.
Monopoli Gallery takes center stage with a captivating exhibition featuring the talented artist Alan Bee. Explore the intricate world of Bee's artwork, as Monopoli Gallery unveils a collection that transcends boundaries and challenges conventional perceptions. This exhibition promises a deep dive into Bee's artistry, inviting viewers to engage with his unique perspective and explore the profound narratives embedded in his creations.
The open studio event in Lambrate goes beyond the visual feast of art. It provides a platform for art enthusiasts, collectors, and creators to come together, fostering a sense of community within the contemporary art scene. Engage in conversations with fellow art lovers, exchange perspectives with the artists, and discover the stories behind the artworks that captivate your imagination.
Mark your calendars for November 23, 2023, and be apart of this contemporary art evening in Lambrate. Matteo Mauro's open studio, along with the collective showcase from prominent galleries, promises an evening of inspiration, connection, and discovery. Whether you're a seasoned art connoisseur or a curious newcomer, this event is an invitation to celebrate the boundless creativity that defines the Ventura Contemporary Art Scene.